FOR IMMEDIATE RELEASE, May 12th, 2022,
CONTACT: Jess Huang, Jess@payourinterns.org
PAY OUR INTERNS ANNOUNCES FOUR NEW MEMBERS TO JOIN EXECUTIVE BOARD
Members bring wealth of experiences and background to POI's work, support expansion of organization's next steps
WASHINGTON DC: — Today, Pay Our Interns (POI) announced the appointment of four new members to the Executive Board: Yasmin Nelson, Pablo Ordonez, Jaime Vasquez, Sheerica Ware Wilkins.
"We're ecstatic Yasmin, Pablo, Jaime and Sheerica have agreed to bring their talents to the board," said Carlos Mark Vera, Executive Director of Pay of Our Interns. "They bring a wealth of leadership and personal experiences to the board, and we're excited to have the value of those experiences to help guide Pay Our Interns moving forward."
The four new board members bring a range of experiences to the existing board:
YASMIN NELSON, SENIOR PRINCIPLE, BRACEWELL LLP
Yasmin (Rigney) Nelson is a Senior Principal at Bracewell, LLP and a Partner at Bracewell's Policy Resolution Group. She is a senior political and policy executive who has worked on presidential and federal campaigns, and in the United States Congress. Yasmin has a demonstrated history of bipartisan and bicameral work in the US Senate, aiding senators in passing legislation into law, shaping regulations and developing public policy proposals. Yasmin is an expert coalition builder and passionate advocate, with an expertise in creating client-focused campaigns.
PABLO ORDONEZ, CISCO
Pablo Ordóñez Bravo is a business strategist with proven experience in advising corporate and non-profit leaders on strategy, operations, and organizational transformation. Pablo currently works at Cisco, where he partners with senior leaders in envisioning and executing multi-year initiatives to innovate on the enablement experience for selling and experiencing Meraki products across the globe. Before Cisco, Pablo worked as a management consultant at Accenture, advising Fortune 100 & 500 clients in tech, retail, and finance on various phases of cross-functional business transformation. He completed his undergraduate studies at Pomona, and has previously pursued other ventures in politics, research, and government.
As a first-gen, low-income student of color, Pablo knows first-hand how important paid internships are to making life-changing experiences accessible. Pablo joins the Board of Directors after advising Pay Our Interns on crafting its talent, operations, and growth strategies. He is excited to leverage his expertise and play a larger role in the fight to end unpaid internships.
JAIME VASQUEZ
Jaime Vazquez is an aspiring policy practitioner with both policy research and non-profit management experience. He has worked at leading Think Tanks, including the Center for Strategic and International Studies (CSIS), the Center for a New American Security (CNAS), and his current workplace, the Center for American Progress (CAP).
Jaime has valuable expertise in the realm of international affairs, having consulted for the U.S. Department of State's Bureau of East Asian and Pacific Affairs, and the Organization of American States (OAS). Jaime is excited about serving on the board of Pay Our Interns and helping to do his part in helping build more representative institutions.
SHEERICA WARE WILKINS, SCHEDULER, SENATOR OSSOFF
Sheerica Ware Wilkins is a bright and bubbly young professional hailing from Georgia with 5+ years of experience managing executive engagements and operations. She currently serves as Scheduler and Special Assistant to the Chief of Staff in The Office of Senator Jon Ossoff.
From meeting Speaker Pelosi at an event she helped organize during her time at POLITICO on the business implications of Super Tuesday, to being briefed by Ambassador Katherine Tai on President Biden's trade policy agenda during her research fellowship at Meridian International last year, Sheerica has learned that the language of progress is access.
Seven full-time internships and one modest state degree later, Ms. Ware Wilkins has found herself in D.C. thriving at tables of influence that have been historically inaccessible to people that look like her. Driven by her own fight for social and economic mobility, she is now excited to serve as a board member for Pay Our Interns to help alleviate systemic barriers for other young professionals craving access to more.
Since 2016, Pay Our Interns has focused on ending unpaid internships for young people across all sectors, particularly students of color. The organization has achieved a substantial number of wins to date, including securing a funding stream for Congressional offices.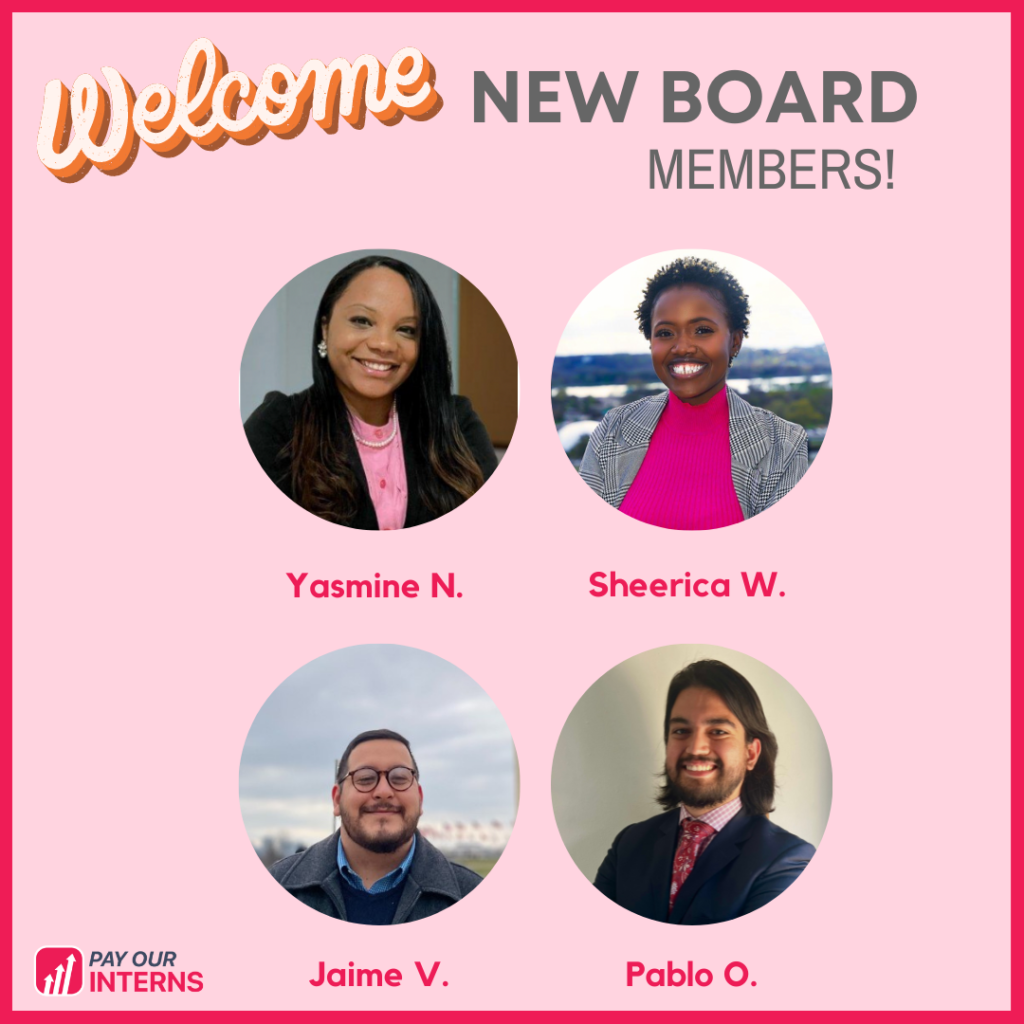 ###
Pay Our Interns was founded in 2016 by two former unpaid interns of color. It is the nation's leading organization fighting to ensure all students have equitable access to professional career paths through the implementation of paid internships countrywide—especially students from historically excluded communities.
Pay Our Interns seeks to ensure individuals from all backgrounds are represented across industries impacting their communities and develop pathways for advancement. In doing so, POI creates a more equitable workforce, more diverse leadership, and a more just world. POI is headquartered in Washington, D.C. and Los Angeles.
For more information, visit www.payourinterns.org.