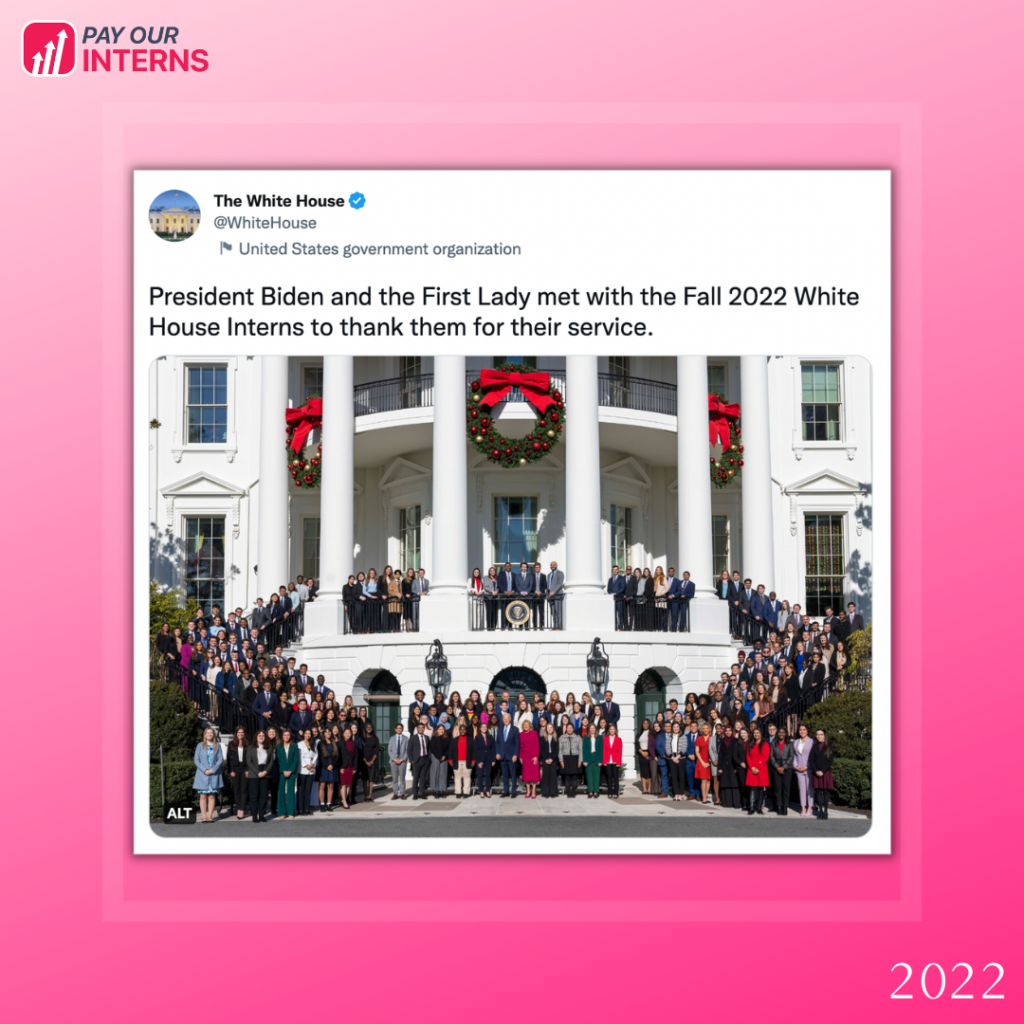 FOR IMMEDIATE RELEASE
CONTACT: Jess Huang, Jess@payourinterns.org
PAY OUR INTERNS CONGRATULATES FIRST PAID WHITE HOUSE INTERNSHIP CLASS
Calls on Congress to continue supporting funding
WASHINGTON, DC — Today, Pay Our Interns congratulated the first paid class of White House interns for the completion of their program. The internship, which originally began in early fall, was marked by the White House with the traditional intern class photo.
"Today's White House release of the fall 2022 intern class photo is a testament to the idea of paid internships," said Carlos Mark Vera, Executive Director of Pay Our Interns. "I don't think it's a surprise to see the diversity in the class. When opportunities are paid, this opens up doors for applicants from across the spectrum. With this in mind, we are calling on Congress to continue supporting funding federal internships, including U.S. Department of State funding." 
The paid White House internship program follows President Biden and Vice President Harris's pledge to pivot federal internships to paid internships, and to increase the number of opportunities available to young people interested in federal government careers. Internships are paid $750 a week for full-time internships, and $375 a week for part-time internships.
In fall 2020, Pay Our Interns partnered with hundreds of former White House interns from across five administrations, to call on the Biden-Harris transition to pay White House interns.
###
Pay Our Interns was founded in 2016 by two former unpaid interns of color. It is the nation's leading organization fighting to ensure all students have equitable access to professional career paths through the implementation of paid internships countrywide—especially students from historically excluded communities.
For more information, visit www.payourinterns.org.